Q1: How did you become a creator?
I've always had a passion for all things creatively — challenging while growing up. I started acting in Theatre at the age of 10, writing poetry, short stories, then switched to modelling and acting in Episodic TV Shows — and the one thing that would always drive me was how I could add more to every project I did, be it with regards to creative input behind the scenes, or fashion-related ideas for styling the looks, or an ability to push boundaries and add more to the concept and framing of a shot. I was brimming with ideas, hence I knew that I was meant to do more than just be a pretty face in front of the camera and challenge myself as a creator.
Q2: What inspires your posts?
My own personality, likes and experiences! Every place I love, every fashion trend I get intrigued by and want to explore, every beauty product I personally admire, every experience I enjoy, every breathtaking moment of life I see and want to share with others through my own perspective. I like seeing my posts as an inspiration board for all my followers sharing ideas about all things luxury, fashion, beauty, travel, and lifestyle.
Q3: What has been your biggest challenge as a creator?
To not lose sight of what I stand for and what my personal traits are, in a world where growing your follower base comes with a lot of skin show, sleaze, or unhealthy competition with what the others are doing and trying to replicate the exact same thing- I prefer to be true to my own ideas, my originality, comfort zone and beliefs.
Q4: And your biggest achievement?
Managing to do all things with passion, class, and dignity. Managing to work with all the international brands I have worked with so far only on merit of how professional, dedicated, talented and good I am at what I do. I put in a lot of hard work and effort into my work so I never give a brand mediocre quality content, and always having a happy and satisfied brand team is my biggest achievement of all!
Q5: What would be your advice to anyone wanting to become a creator?
Don't do it because everyone else is doing it, or because you think it's easy and instant fame, or because you think it gives you access to a lot of free products and services, do it if you're passionate about creating content and are good with what you do, do it only if you have an aptitude for it. And then give it your 100% and never take anything for granted.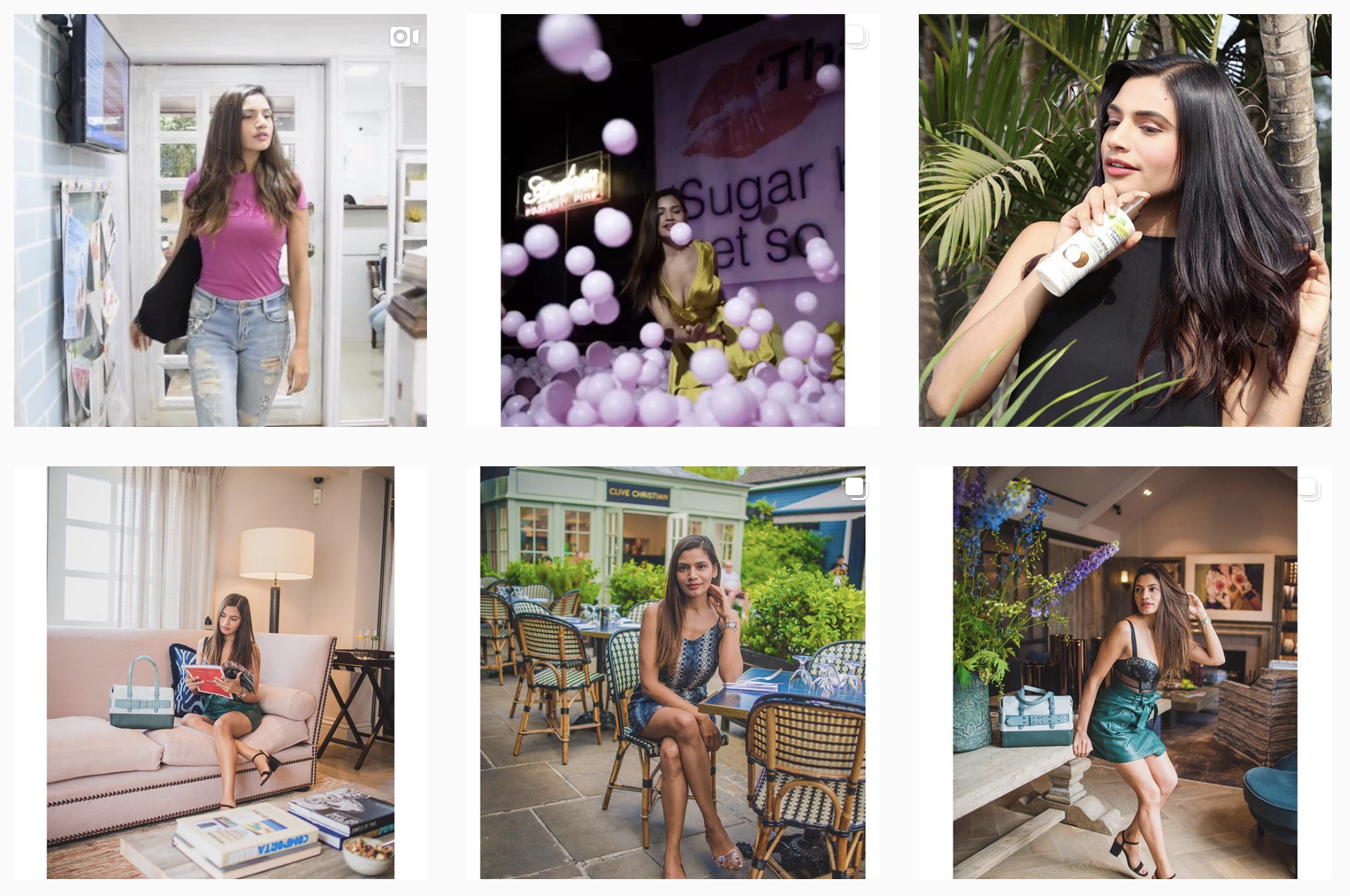 Q6: Your fave Instagram filter?
I somehow don't like filters, I love experimenting with and enhancing the natural colors of every shot. But if it had to be one, I'd choose Juno at 15% max.
Q7: Your fave Instagrammers?
Taramilktea, Muradosmann, Samkolder.
Q8: Which camera/lighting techniques do you use?
I like shooting with any kind of DSLR, preferably a Canon, and I like getting my shots in natural light. I feel nothing captures clarity better than a DSLR, and nothing compliments colors better than natural light.
Q9: What's your hashtag strategy?
None to just two max. And they will either be about the location or the mood of the post. I feel too many hashtags make the post look cluttered.
Q10: The best thing about being a creator is…
You get to be your own makeup artist and hairstylist, costume stylist, director, script writer, most of the times even your own DOP, your own blog writer, everything! You get to be this powerful being who can channel their thoughts, ideas and voice to create something entertaining or something powerful enough to move hundreds and thousands of other people. You get to share life and the world from your own point of view with lives all over the world on one tiny social media platform, if that isn't moving, what is?!
Thanks so much Megha! You can follow her amazing journey here: