Allmumstalk creator, Aly offers tips on becoming an influencer and explains how a decision to stay at home with her children opened up a new social media career.
Instagram has more than 800 million users. Parent company, Facebook continues to ride high with around 1.74bn account holders worldwide. And over at Twitter upwards of 300 million people are sending and responding to tweets. Add to that, the 300 hours of video that are updated every minute on YouTube and it's clear that an almost unimaginable number of people are engaging with the world via social media.
But here's the thing. Only a very few of them – even those who post regularly and with a degree of focus and purpose – are recognised by brands as 'influencers.' These are obviously people who succeed in attracting and growing an audience through the quality of their posts, but that is only part of the story. They are also opinion formers. Whether their subject is music, makeup, travel or the digital economy, their views matter. It's not an easy trick to pull off.
But when an influencer does hit upon the right formula – one that inspires and engages a loyal audience – the result can be a new and very exciting career.
That was certainly the experience of Aly, the social media influencer posting as Allmumstalk, who has built a following of 30.1k on Instagram. Today, Aly works closely with brands on a range of promotions. But as she explains, her career was to some degree accidental and unexpected.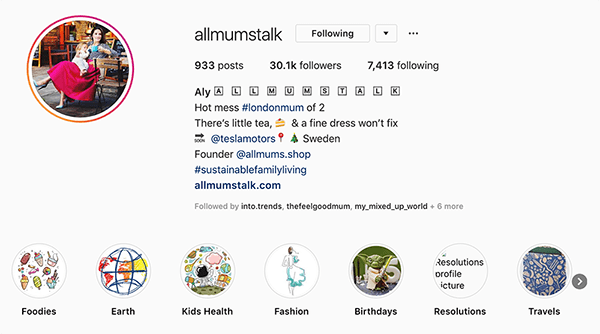 Getting Started as an Influencer
"It has been a journey," she says. "And initially, I wasn't thinking of it as a career."
As Aly explains, her initial motivations for posting on social media were personal. Having taken time off from a demanding job to have her first child, she made a decision not to return to work. Social media provided a means to contact other mothers. "I didn't know many people who were in my situation," she says. "Most of my friends were still at work. So I used social media to find other mums in the Queens Park and Notting Hill areas."
Building a Profile
Aly started a blog and began to post on Instagram. As she began to build a following, something surprising happened. "Brands began to get in touch and they asked me if I would like to receive products for review," she says.
As the first few products began to arrive Aly saw an opportunity to build on her Instagram following. "I began to organise competitions based around the products," she says. Meanwhile, she was being invited to a range of events where she could interact and socialise with other mothers. In addition to being an enjoyable way to spend a morning or afternoon, these occasions provided a further opportunity to network, build a profile and attract more followers and blog readers.
Creating a Brand
Aly was also creating a brand. Instagram is her preferred medium and part of her success on that channel is a focus on professional quality images, with a particular focus on children's fashion and food.
Meanwhile, her website leads with the strapline: "Where witty, chatty and effortlessly cool mums meet." From that thumbnail description, the site is clearly about lifestyle, but as the reference to "chat" indicates, it is also about communication.
"I always try to engage," says Aly. "It's all about a conversation. For instance, I always answer every comment that I get on Instagram." That focus on conversation helps create the sense of community around Aly's online presence.
Cross Promote but Focus
You'll find Aly posting not only on Instagram, but also on Facebook and Twitter. However, she stresses that her philosophy is to focus on a preferred medium. Thus, while Twitter is used to promote her blogs and Facebook tends to be reserved for more personal communications with friends, her real priority is Instagram, supplemented by the added depth that blog posts can offer. "I think you should really concentrate on one main thing," she says. "With me, the main conversation is on Instagram."
Do What Interests You
Aly uses professional photographers for much of her imagery but she is also keen on photography herself – and this passion feeds into her preference for Instagram. She stresses however, that everyone has their own approach. "Some people just use a phone and they are very successful."
And once you've decided on an approach, she believes it is better to post about things that you are really interested in rather than trying to find subjects that – in theory – might generate a lot of traffic. In other words, it is better to be authentic.
Working with Brands
So Aly works carefully with brands to ensure that the campaigns she takes part in are in keeping with her own interests and the spirit of her brand. There is, however, quite a lot of variation in the way she engages with sponsors. "It usually starts with a call from their PR companies," she says. "Sometimes there is clear brief from the brand. But on other occasions, I will propose something — which they might accept or reject, or we might modify it — it's a conversation."
When asked about what she enjoys most about being a career influencer, the answer is perhaps not surprising. "I have a career but I see my children all the time. The lifestyle is so flexible."