Q1: How did you become a creator?
I know this is cliché but it kinda just happened. I started Instagram to go along with my blog, www.mumforce.co.uk, so I could have an instant connection with my readers and be able to interact with them, and it grew from there. I don't do many ads, but if brands reach out to me and it's a fit I will happily work with them.
Q2: What inspires your posts?
I like to show my every day, my thoughts, feelings and general family life. I really love beautiful candid shots, unusual angles and (controversially) presets/filters. They add depth and atmosphere to my posts I feel. I also love honest captions; if my pictures look like they don't tell the whole story I make sure my captions do.
Q3: What has been your biggest challenge as a creator?
Comparing myself to others. There is so much talent out there, so I try really hard not to doubt myself and keeping doing what I love.
Q4: And your biggest achievement?
I am a regular contributor on BBC Scotland and BBC Radio Scotland because of my blog and social media. It's been great fun and has opened up so many opportunities for me. I have met and worked with people I have watched on the TV for years – it's all a bit surreal to be honest!
Q5: What would be your advice to anyone wanting to become a creator?
Just do your thing, take pictures and be yourself. Believe me, you will be much happier if you are honest with yourself. Also, don't get consumed by the numbers – it's easily done but in the end it doesn't matter that much.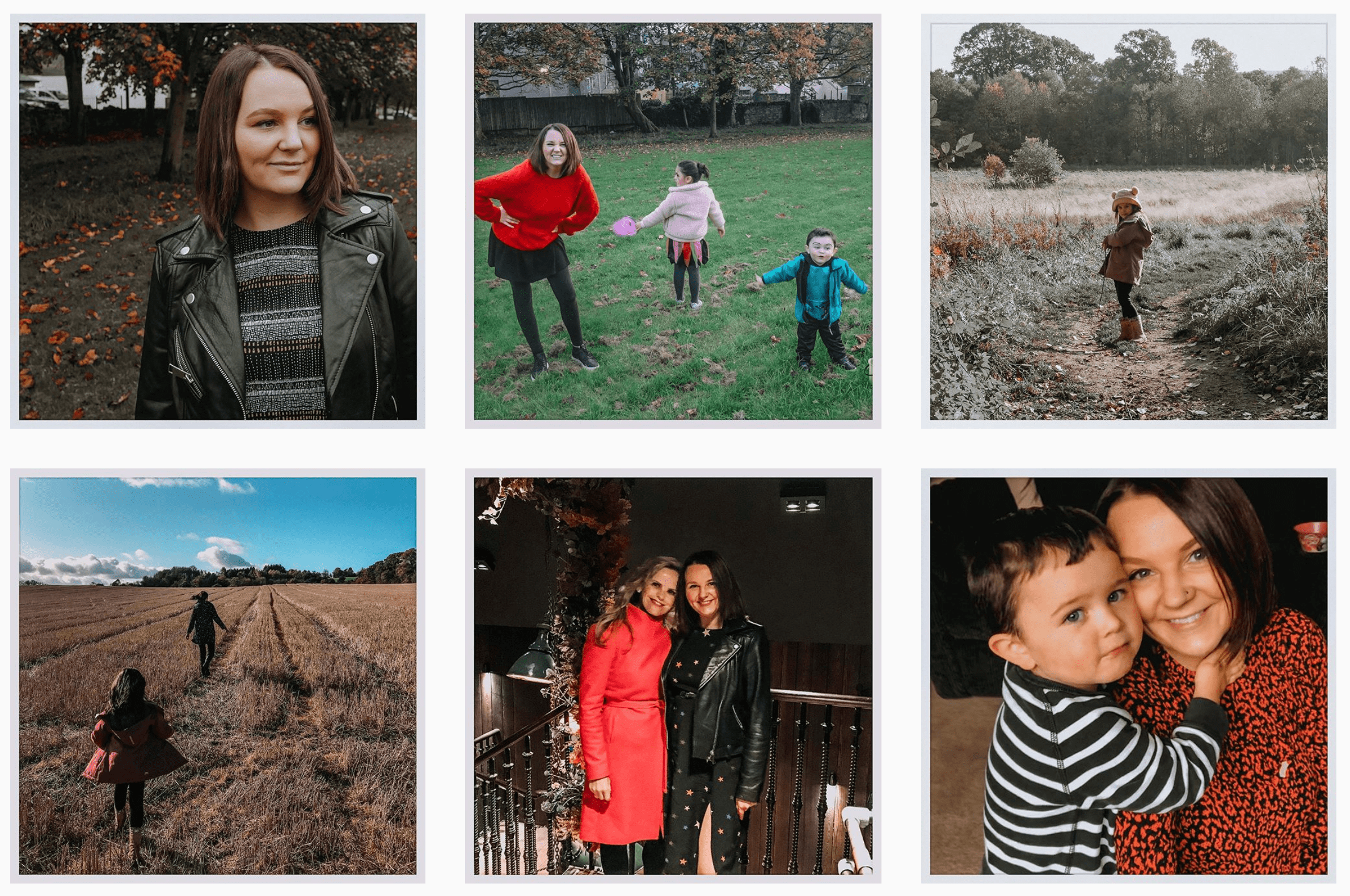 Q6: Your fave Instagram filter?
I don't have one – I use one that I created myself.
Q7: Your fave Instagrammers?
SO many! I love Yasmine Camilla, we have been insta-pals for a while now. @HeySantena for her 'realness' and humour and @honestkirsty for her brutally honest views on mental health (Warning though – she loves to swear!)
Q8: Which camera/lighting techniques do you use?
I have a very basis iPhone 7 so I tend to take my pictures using my camera which is a Panasonic Luminx G6. It's easy to use and has taken some great shots. I love the wifi function on it which means I can snap and post without a laptop. I also have a tripod that I take every where. I get some funny looks when I pull it out but I don't have an "insta husband" on hand to take pics and my daughter isn't very good with the camera yet…she will learn though, ha!
Q9: What's your hashtag strategy?
I use Pinterest a lot and there are some great posts with recommendations on there.
Q10: The best thing about being a creator is…
Creative freedom, fun experiences and the fab network of creators I have met along the way.
Thanks so much Gail – check out her fabulous content here.
about
InfluBase is a micro influencer agency based in Soho, London. We bring creators and marketeers together to create powerful partnerships. 
InfluBase is a division of ContentStars Ltd.