Olive Gives launched in August 2019 to help raise money and awareness for non-profits around the world, enabling people to contribute to society, one piece of digital spare change at a time. A totally unique online donation platform, Olive operates by rounding up digital spare change from credit and debit card spending, to then be donated to an NGO of the user's choice.
THE TASK
Engage micro-influencers who truly align with the Olive mission statement and vision through their existing feeds to create a buzz around the launch in the UK and US, and ultimately generate sign-ups and NGO donations.
THE SOLUTION
We sourced a long-list of 50+ micro-influencers who's profiles resonated with Olive's ethos of making a difference to society, to short-list and secure 10 x influencers from both the UK and US to trial and promote the product from August – October 2019.
Each influencer created content around their own experiences of the platform to educate and engage their audiences across Instagram, with a minimum of 1 x main feed post and 1 x video story each.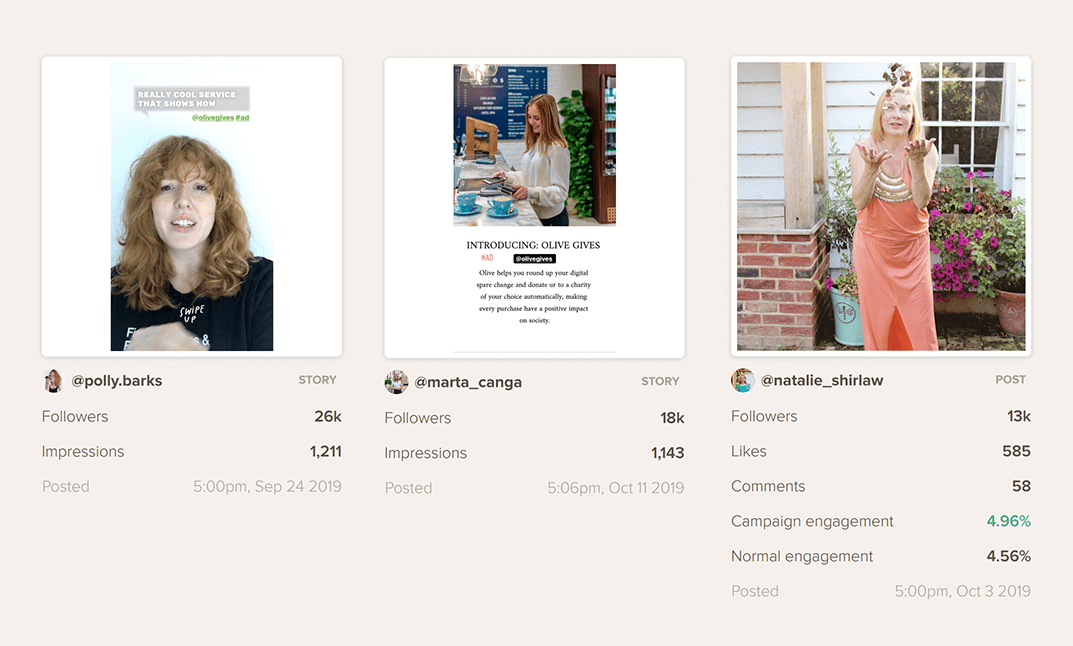 THE RESULTS
Overall Campaign Reach: 119K
Total Story Impressions: 55.5K
Highest Single Post Engagement: 4.96%
By engaging only with truly on-brand influencers, Olive's unique service was promoted through totally authentic content by influencers who had used and really enjoyed the platform – shown by the added value the client received through blog mentions, positive reviews and extra stories.
With unique UTM links used for each influencer, the client was able to track individual performance, and was really happy with the results.
"Influbase helped Olive Gives to find the right influencers for our product. Our challenge was finding influencers who were genuinely suitable for our brand image, whilst helping our non-profit partners as well. We're really happy with the result of our first campaign, it was well-executed and met our expectations."
Marisa Paramita, Co-Founder, Olive Gives
about
InfluBase is a micro influencer agency based in Soho, London. We bring creators and marketeers together to create powerful partnerships. 
InfluBase is a division of ContentStars Ltd.