OZY is a US thought-leading media platform. Founded as a digital news and culture magazine, it reaches over 50M people every month – from OZY.com to social media, email, app, TV, podcasts, live events and more.
OZY Fest is an annual eclectic festival of music, comedy and ideas held in Central Park, combining live music, great food, and political debate. Described by the New York Times as "part music festival, part Ted talk, part food fair", this annual festival began in 2016 and has been dubbed as an integral part of the NYC festival scene.
THE TASK
Generate ticket sales and buzz around OZY Fest 2019, and boost brand awareness and audience growth through both organic and amplified social media posts.
THE SOLUTION
From a long-list of 50+ potential influencers within OZY's target profile of NYC urban, curious thinkers, we recruited 10 x influencers with 10K to 25K followers
to promote OZY Fest 2019 in the lead-up to the festival from May -July 2019.
Each influencer created authentic content to engage their audiences across Instagram, with a minimum of 1 x main feed post and 1 x video story each. The majority of posts were also shared across influencers' other social platforms – including Facebook, Twitter and YouTube.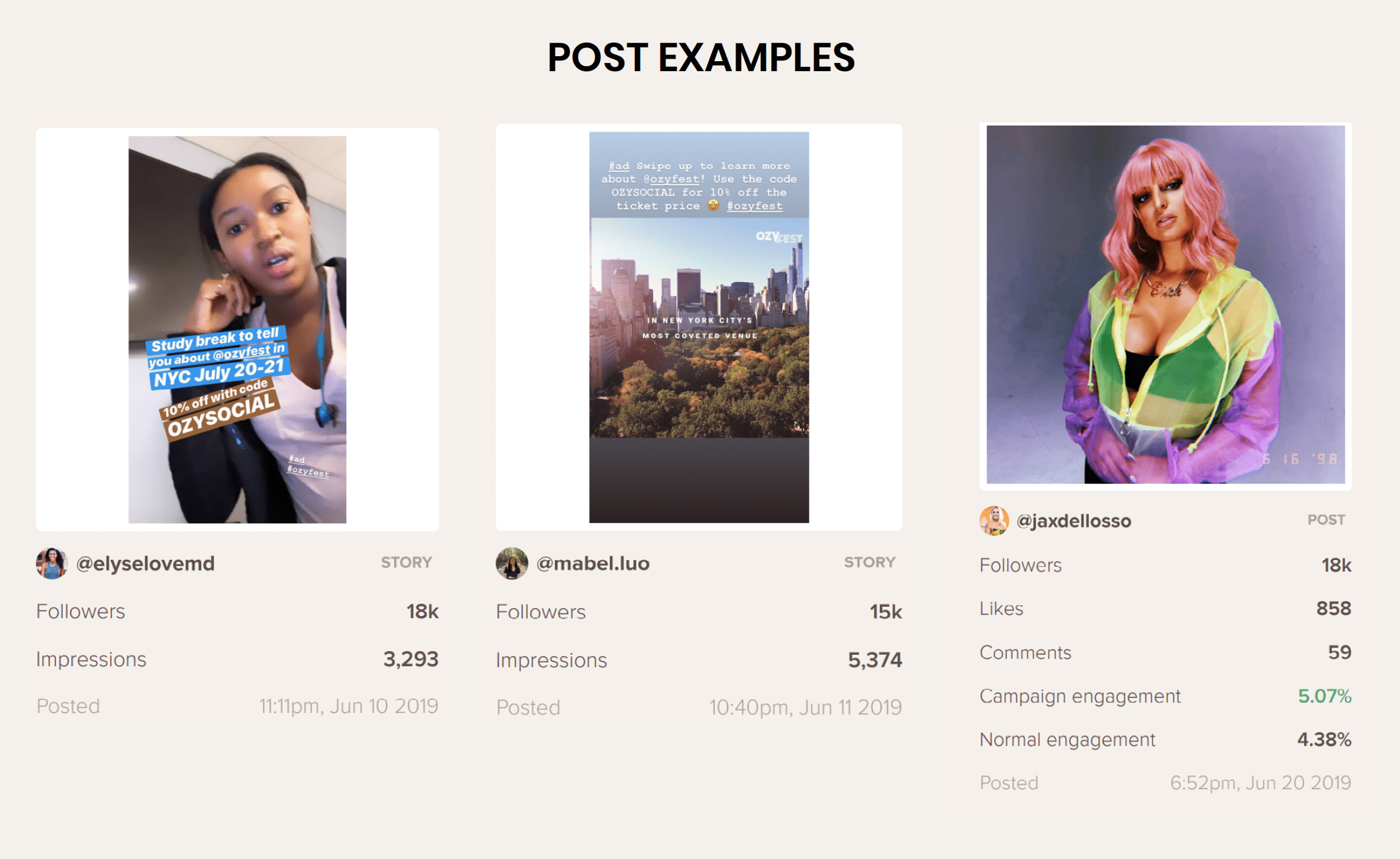 THE RESULTS
*Overall Campaign Reach: 163K
Total Campaign Engagement: 3.6%
Highest Single Post Engagement: 5.51%
* NB these results are taken from Instagram only (and do not include Facebook, Twitter and YouTube audiences).
OZY Fest 2019 was a sell-out, and with our combination of targeted and high-engagement influencers, we contributed to a hugely successful brand awareness campaign which created significant buzz in NYC.
With individual UTM links used and post-amplification boosts set-up, the client was also able to track conversation rates, compare organic results vs boosted, and control further amplification of content, ensuring the best-performing posts were optimised and amplified even further within NYC.
"The InfluBase team did a great job in finding influencers who were relevant to our project. The team managed the program efficiently and professionally."
James Watkins, Associate Marketing Director, OZY
about
InfluBase is a micro influencer agency based in Soho, London. We bring creators and marketeers together to create powerful partnerships. 
InfluBase is a division of ContentStars Ltd.