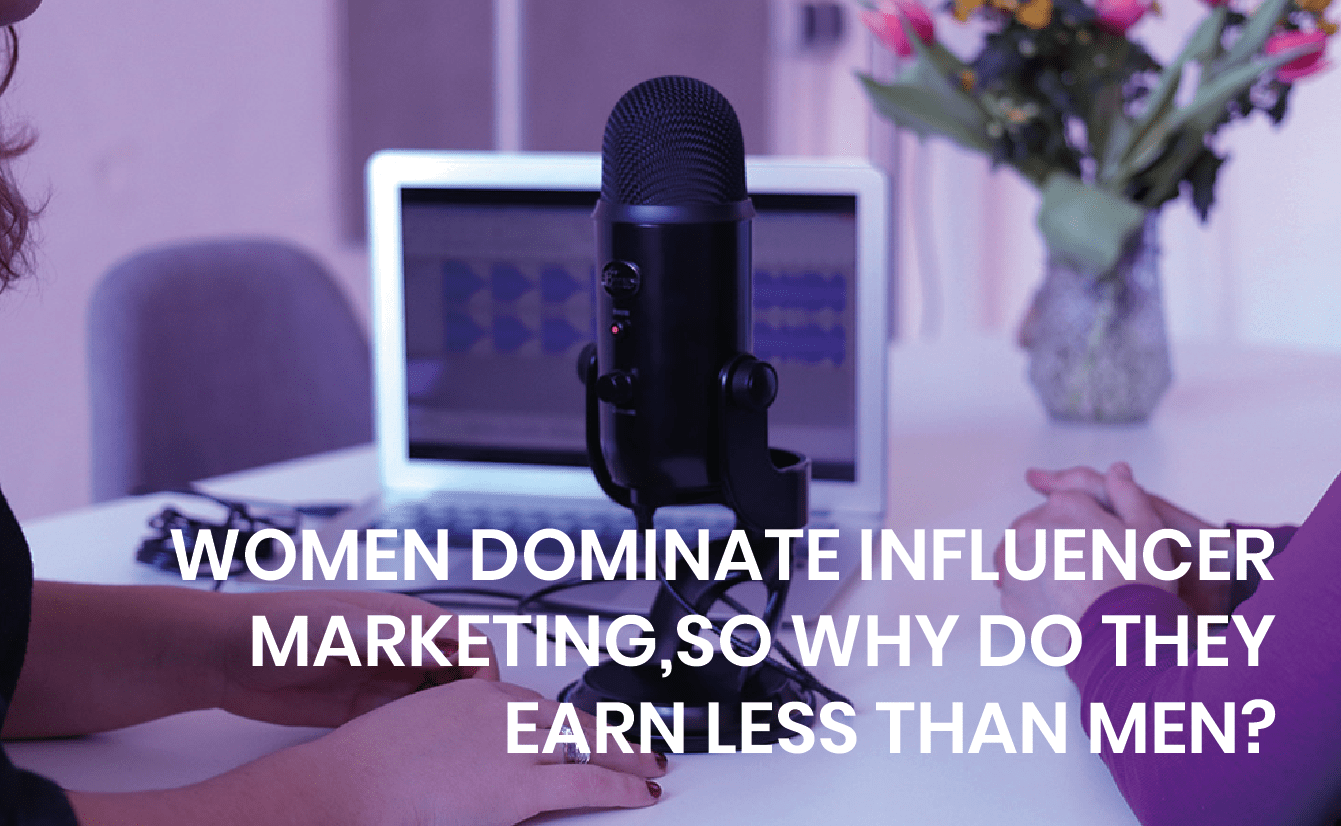 Women have made a strong impression in the influencer sphere, yet their earnings continue to lag behind their male counterparts. Why is this?
Digging deeper into to the numbers from a sector report conducted by Klear, women make up the majority (77%) of the influencer community. This is across all sectors including fashion, travel, tech, food and entertainment.
There are many reasons why women have come to dominate the influencer space, perhaps the most obvious explanation being that the majority of users on Facebook, Twitter, Pinterest and Instagram are female.
The power of storytelling
It is not just what you do, as the jazz greats sang, but the way that you do it that gets results. Women have a tendency to weave the kind of personal narrative that encourages connections on social media. They are reportedly more likely than men to share personal information, according to Facebook research on user-generated content on its platform. As such, women tend to make more connections with friends, family and other users with shared interests.
According to gender breakdowns across social media platforms, women are simply more active and engaged on social media, enhancing their ability to connect meaningfully with audiences.
Another factor in the success in female influencers is the prominence of retail industry spending in the sphere. Women wield a great deal of spending power in their day to day lives, and social media marketing has long tapped into this.
Recent research suggests that the impact of engaging directly with consumers cannot be understated. As many as 86% of women shoppers say they are more likely to buy a brand they've never purchased when they begin to interact with that brand on social media, according to a survey from Influence Central.
Influencers have become a direct, trusted conduit between consumer and brand. Women tend to look to their favourite influencers, often those whose lives reflect their own, for social proof before investing in products.
Mind the gap
With women's prominence as influencers in mind, Klear's research into influencers' typical earnings makes for bleak reading. The survey reached more than 2,500 international influencers and breaks down earnings per post across the spectrum, from nano-influencers to celebrities with upwards of 500,000 followers. It finds that across all social platforms, women charge an average of $351 (£279) while men command $459 (£365).
The breakdown of figures by sector is interesting. In the lifestyle industry where women make up 88% of influencers, men earn on average $200 (£159) more per post. Move to the travel sector, however, and women earn $615 (£489) for a post compared to men who charge $570 per post (£453). To clarify, the largest pay gap between men and women sees men earning $200 more per post. But where women do earn more than men (in travel influencing) the difference is only $50 greater.
That YouTube has the highest pay gap of all the channels at 38% compared to 33% elsewhere is another interesting take out from the data.
A counter view
Some in the industry take a different view. Writing for Forbes, Hearst's senior director of influencer strategy Brittany Hennessy claims that she has observed women often charging "up to four times" as much as their male counterparts.
There can be no doubt that women are dominating the world of influencer marketing. It may be that this fast-growing industry needs to set clearer pricing standards and better standardisation around valuing an influencer's worth. It could be simply to do with scarcity syndrome: if there are fewer male influencers, they can probably charge more as a scarcer resource.
One thing is sure – the more we share our knowledge and experiences, the more our understanding and our confidence in pricing and negotiating can grow. The conversation has started…let's make sure we keep talking.
about
InfluBase is a micro influencer agency based in Soho, London. We bring creators and marketeers together to create powerful partnerships. 
InfluBase is a division of ContentStars Ltd.