Bringing you the latest influencer marketing news from around the world, here is our pick of the best stories we've found this week.
What Does Influencer Marketing Look Like in 2020?
Influencer marketing is changing, and trust and brand alignment are now over-taking reach in the selection process – hence the rise of micro-influencers. But it's essential that brands also shift how they're measuring true influence, and brand image remains core.
Coronavirus Causing Chaos for Travel Influencers
When your income depends on promoting travel, global quarantine comes at a huge cost.
Bad Influencer Marketing
As record labels get more deeply involved in the influencer world, and conversations move away from Instagram towards TikTok, the importance of following the rules and sticking to an authentic narrative between artist and influencer is key.
TikTok Launches Campaign Reporting Tool
Following the launch of TikTok's Creator Marketplace last year, new analytics features have been added to help brands measure campaign performance, including key metrics such as views, engagement, engagement rate, and audience breakdowns for each sponsored posts.
IZEA Announces 'Coronavirus Impact on Influencer Marketing  Streaming Event
IZEA Worldwide Inc has announced a streaming event to address the impacts of COVID-19 on the Influencer Marketing industry.
But influencer marketing is not only effective for B2C companies. Indeed, B2B organisations typically draw larger average purchases and recent research has supported the importance of word of mouth advocacy in the decision-making process.
To understand this, we need to look a little closer at the B2B buyer journey. The majority of B2B buyers don't even contact a company they're thinking about buying from until they've created their own shortlist.
Consumption habits among buyers continue to shift; buyers simply have less time to devote to researching purchases than before. Opportunities to persuade and convince early stage prospects are increasingly scarce.
As such, the role of persuasion has moved to influencers. A noteworthy 87% of B2B buyers give more credence to industry influencer content according to this report (requiring registration). This is the sweet spot for B2B influencer marketing, where content shared by insiders is seen as more credible and tends to be held in high esteem.
Check back in next week, as we delve deeper into what type of content assets B2B buyers actively seek out as they formulate their purchase decisions.
Photos by Dylan Gillis & JESHOOTS.COM on Unsplash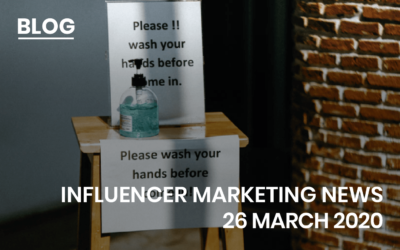 Bringing you the latest influencer marketing news from around the world, here is our pick of the best stories we've found this week.
read more
about
InfluBase is a micro influencer agency based in Soho, London. We bring creators and marketeers together to create powerful partnerships. 
InfluBase is a division of ContentStars Ltd.